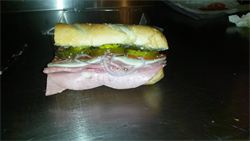 We carry a wide range of sandwiches to keep your taste buds satisfied while keeping your health in mind . Below you will find a list of the great sandwiches and salads we have to offer. The sandwiches can also be served to cater as a small or large party tray for your next event. Please call or stop by for more information on products, current promotions and custom options.
Turkey Sub
Garden Salads
Roast Beef Sub
Caesar Salad
Ham Sub
Chef Salad
Turkey Bacon and Ranch Sub
Chicken Salad (Caesar or Buffalo)
Vera Veggie Sub
Italian Beef
Buffalo Chicken Sub
Italian Sausage
Smoke Pit Ham Sub
Italian Turkey
Corn Beef Sub
Triple Turkey Club
Deli Style Philly Sub
Corn Beef on Rye
Caesar Chicken Sub
Italian Sub
All of our sandwiches and salads are made with the freshest ingredients. From the crisp lettuce, ripe tomatoes, fresh cheeses and a host of oils and vinegars. Not to mention your choice of Dressings.