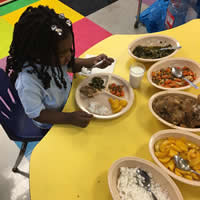 Nicole's Sandwich Shop providing meals for our "Little People"! We notice there is a need in the Child and Adult Care Food Program for great tasting food. Yes, we all agree that healthy eating habits are essential to the growth and development of our children minds and bodies. Great tasting food is the key to getting your child to eat nutritional meals rather than just wanting them too. By providing meals that follows the Food and Nutrition Service (FNS) guidelines we can offer quality choices that are exciting, creative and tasty. Our goal is for our "Little People" to not only eat their meals, but to enjoy their meals.
Nicole's Sandwich Shop catering menu brings exciting meal options with healthy foods and specified recipes that are pleasing to the taste buds. Our outstanding menu is a combination of tasty meal items such as: Baked Chicken, BBQ Beef, Baked Turkey Mostacolli, Chicken Alfredo, Turkey Sub Sandwiches, Chicken Tacos and many more delicious foods. Quality meats, vegetables, pastas and sauces makes our traditional home style meals a great choice of nutrition for our "Little People". Our menus are design to meet all guidelines and requirements for ISBE (Illinois State Board of Education), Child and Adult Care Food Program (CACFP) and the Head Start Program set forth by the U.S. Department of Agriculture (USDA) and the Food and Nutrition Service (NFS). We provide CN Labels and Recipes for dishes made with combined food items.
We like to introduce our Bag Lunch Program which offers cold lunches to Child Care Providers and Elementary Schools that plans field trips for our "Little People". These lunches consist of a variety quality Turkey Meat Products, Whole Grain Breads, Cheeses, Fresh Fruits or nutrition conscious Fruit Snack Products and Chips. These lunches will need to be order several days prior to any scheduled planned class field Trip.